Cadence Builds MCAD Bridges
Beth Stackpole, Contributing Editor, Design Hardware & Software

We've seen the MCAD guys doing their part to build bridges to ECAD platforms. Now the ECAD folks are starting to lay out their own strategies for building tighter integration between MCAD programs and their own electronics design automation (EDA) tool suites.
Cadence Design Systems, in particular, recently elaborated on its strategy to improve collaboration between the mechanical and electrical design groups. In addition to a years-long collaboration with PTC, Cadence just recently stepped up its partnership with Dassault Systèmes to enable greater control and management of semiconductor design data.
Specifically, Cadence and Dassault collaborated to build out APIs and interfaces between Cadence Allegro PCB Designer tools and Enovia Synchronicity DesignSync Data Manager, a platform built on the Enovia PDM platform to specifically handle the hardware and software data in semiconductor products.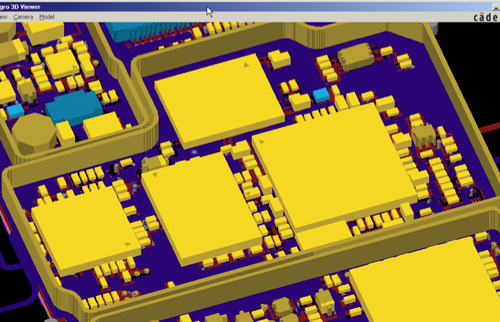 Cadence is collaborating with Dassault and PTC to build integration between its Allegro PCB Designer tools and MCAD platforms.
While Cadence software is essential for helping OEMs develop silicon IP, MCAD tools are the critical tool set for the original device manufacturer (ODM) counterparts, which are making the physical enclosures that house the electronic designs. Design work has traditionally been handled by siloed systems, and while collaboration between these two entities is critical, it's traditionally been done via mostly manual methods, leaving too much room for error and introducing delays into the design cycle that are just not acceptable, given the demands of today's competitive markets.
Moreover, as circuitry gets further miniaturized, and as continual performance enhancements up the ante in terms of power, the electronics and enclosure design teams really need to be collaborating on a much more formal and structured basis, according to Dave Desharnais, group director, product marketing, for Cadence's Silicon Realization Group. "The IC is so sensitive today that teams have to be cognizant of where things go, but there's been a big gap in communications," Desharnais explained to us. "Our customers have to deal with the broader package and the bill of materials."
That's where the partnerships with Dassault and PTC come in. By building connectors to their MCAD and PLM suites and by incorporating the tools in Cadence's design flows, customers, especially those that have globally dispersed teams working on the silicon/package/board piece in addition to a separate team on the enclosures (basically, everyone), will have a foundation for collaborating and real-time data sharing with the requisite version controls and structures that keep every one on the same page when it comes to design changes.
"By putting these products into our systems and into our flow, we allow our customers access to the full silicon, board, and enclosure data," Desharnais said. "By driving those linkages into the flow, the integration is much simpler for the user."
Dasharnais says the integration between the PTC and Dassault products can be tapped whether customers are running on-premises versions of Cadence software on their own servers or if they're tapping Cadence's software-as-a-service solutions.
Moving forward, expect more from Cadence on this front. Dasharnais says the firm sees lots of opportunity to provide services and solutions that foster collaboration between OEMs and ODMs, and the MCAD/ECAD bridge is the start and the core building block.
View the full article from DesignNews at: http://www.designnews.com/author.asp?section_id=1394&doc_id=233965&f_src=designnews_gnews