Beth Stackpole
Contributing Editor, Design Hardware & Software

In yet another instance of a vendor snapping up a small provider to gain access to highly specialized technology, Dassault Systèmes acquired Simulayt Ltd., a maker of advanced draping simulation software used in composites design, for an undisclosed amount.
Simulayt's claim to fame is Layup Technology, developed initially for applications in the aerospace industry, but now readily used to develop everything from Formula 1 race cars to marine, energy, and automotive applications. Layup Technology encompasses advanced fiber simulation and ply modeling capabilities, allowing engineering groups to simulate manufacturing processes and link the data to analysis and design models, fostering, in turn, more robust composite designs.
CATIA Version 6 and Version 5 have integrated composite functionality as part of the CATIA Composites Workbench, but it's limited to design functionality and doesn't fully address how composite materials will drape while simulating manufacturability, according to Rani Richardson, CATIA composites product specialist at Dassault Systèmes.
Simulayt has been a long-time partner with Dassault, and in fact, its technology was one of the linchpins in the company's work with BMW around composites. Specifically, the Simulayt technology was deployed to integrate CATIA Composites with BMW's existing analysis processes, including making advanced fiber simulation accessible to BMW designers.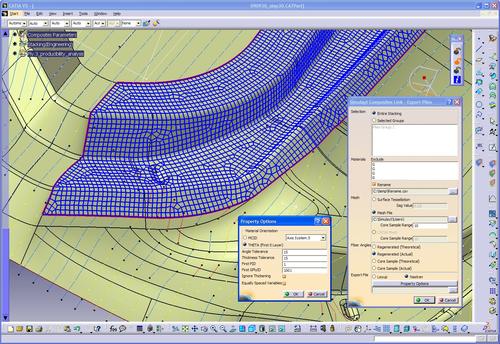 With Simulayt's Composites Link, engineers can transfer ply design models
to a variety of FEA environments, including Nastran offerings.
It's Simulayt's tight link from design to analysis to manufacturing that was the real attraction and the impetus for the acquisition, Richardson told us: "Rather than try to reinvent the wheel, we opted to adapt to what they have in terms of best-in-class technology. That gives us seamless interoperability and the ability to offer solutions that none of our competitors are offering."
Richardson cited three Simulayt products that will help deliver on that seamless interoperability promise:
Advanced Fiber Modeler for CATIA V5 Composites Workbench. A complement to the composites technology offered by CATIA, this add-on, fully integrated with the Composites Workbench, performs robust draping on complex surfaces due to the inclusion of more robust algorithms and solvers. So where other composite simulation tools get hung up, Simulayt simulation technology can handle features like sharp corners, splits, and rapid changes in curvature.
Composites Link for CATIA V5 Composites Workbench. One part of the bridge between the CATIA Composites Workbench and FEA tools, this piece lets the analysis model created in FEA platforms be imported directly back into CATIA.
Composites Modeler for Abaqus/CAE. This is the second piece of the bi-directional bridge between the analysis and design platforms. While extending the ply modeling features in Abaqus, this tool also provides direct linkage back to Simulayt's Layup technology, delivering further integration between design and manufacturing.
View the full article from Design News: http://www.designnews.com/author.asp?section_id=1394&doc_id=234433&f_src=designnews_gnews